Welcome to Amistà! We are located in the hills of Monferrato in Italy's Piedmont region. Not only is Monferrato a UNESCO-designated heritage site.
It's also home to the communes of Nizza, San Marzano Oliveto, and Moasca where we grow our grapes for our Nizza DOCG wine. Our winery was born out of our desire to celebrate our region and our land. Along the way, we have developed a new approach to winemaking. And we are also developing a new approach to hospitality and new ways to share our values with the world.
OUR MISSION IS TO CREATE WORLD-CLASS WINES
All of the wine that Amistà produces is Nizza DOCG. And the wines are made from vineyards that are more than 30 and 50 years old. In some cases, the vines are more than 90 years old. Nizza is widely considered to be the greatest expression of the Barbera grape. Here at Amistà, we have taken it a step further through our focus on quality. We want our wine to be a gateway to Piedmont throughout the world as a new interpretation of this remarkable, nuanced grape variety.
Listen to the land, respect its balance
These concepts are what guide our approach to sustainable viticulture.
Listening to the land and the vines means working and producing wine in perfect harmony with our region. It's the sandy marl and clay of these ancient vineyards that makes the difference. They are ideal for growing healthy grapes that are rich in flavor. And we combine our quest for excellence with our respect for the land through healthy sustainable farming practices that only increase the quality of the final product.
Low yields, higher quality
Age matters. We don't force our vines to give us more than they can. At Amistà, the yields are around 50-55 metric tonnes per hectare (even though the Nizza DOCG allows up to 70 metric tonnes per hectare). This not only guarantees superior quality. But it also helps us to keep the vineyards healthy and sustainable.
"If the vines are healthy, the wine will be good," says Luca D'Attoma, the world-famous enologist who works a consultant with Amistà. Our investments in Agriculture 4.0 are combined with the traditional farming practices of our appellation. From pruning to harvest, we do all the work by hand. We only use fertilizers made from organic substances: From chicken manure to earthworms, we keep the soil balanced and rich with biodiversity. We use grasses and legumes as cover crops. All of these elements help to bolster the soil's "humus" or life. We use only natural products to protect our vines from disease, including a wide range of organic-certified products.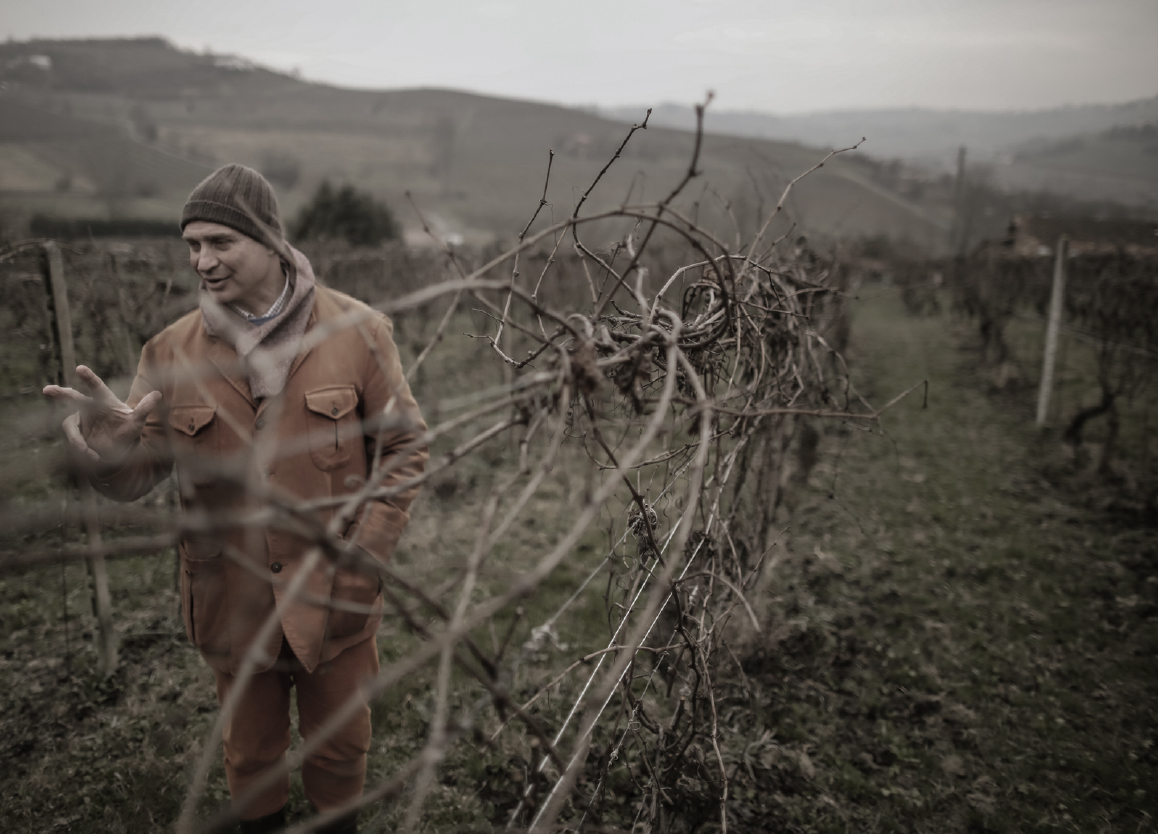 We let the wine take its time
We don't use deadlines at Amistà. We have just one goal: To create the best wine possible. Throughout the vinification and aging process, we aim to maintain the natural character of the grapes — their elegance and their balance. Bottle aging also takes longer than the minimum required by the appellation. Our Nizza is aged six months longer than required and our Nizza Riserva is aged 12 months longer than required before they are released.